If you don't like the way you look in the mirror, drink this!  Muscle Milk is complete and balanced grab & go nutrition that fits todays active lifestyle.  A 14-ounce bottle of Muscle Milk delivers 27-28 grams of protein, 20 vitamins and minerals, medium chain triglycerides and just 6 grams of sugar.  It's lactose-free and great tasting.  It's healthy, sustained formulation is so complete that some people use it for meal replacement.
Muscle Milk is endorsed by the PAC 10, ACC, SEC & Big 12 Conferences.  Green Bay Packers Linebacker Clay Mathews, Milwaukee Brewers Outfielder Ryan Braun and Triathlon World Champion Chrissie Wellington know the benefits of Muscle Milk and you'll see a difference in your performance when Muscle Milk is part of your training program.

MUSCLE MILK PRO SERIES MEGA PROTEIN SHAKE
Ocean Spray is synonymous with juice
Since 1981 they've been the largest producer of canned and bottled juice drinks in North America. For over 75-years the Ocean Spray agricultural cooperative, now about 600 cranberry growers and 50 grapefruit growers strong, has been dedicated to helping nature produce the juices that make us feel good and keep us healthy. Ocean Spray: 100% juices and juice blends. Good Stuff!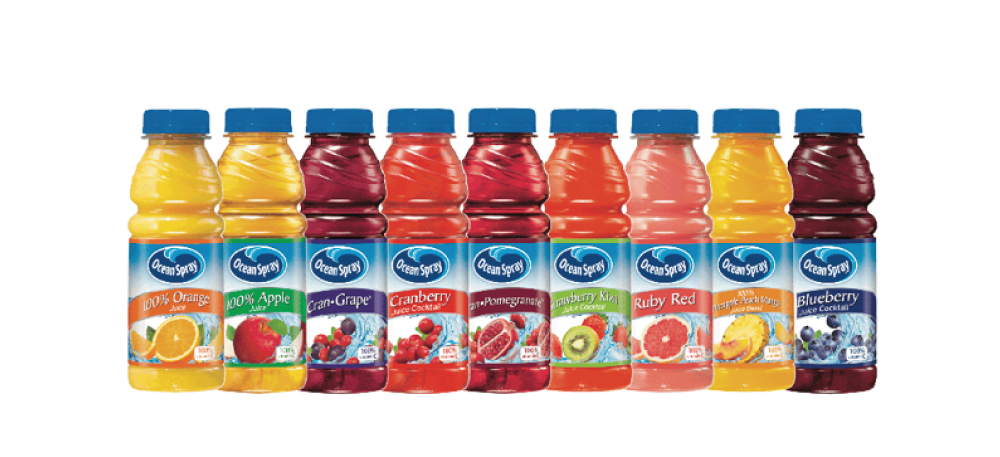 CANADA DRY MIXER
Developed In 1890 By Canadian Chemist & Pharmacist John McLaughlin, Canada Dry Is Known Worldwide For It's Mixers, Particularly It's Ginger Ale.  The Popularity Of Canada Dry As A Mixer In The United States Started During Prohibition, Owing To The Fact That It's Flavor Helped Mask The Taste Of Homemade Liquor.
Ginger Ale
Too Many People Mistakenly Think That You Only Drink Ginger Ale When You're Not Feeling Good; Actually, It Really Should Be The Other Way Around!  Drinking Canada Dry Ginger Ale Makes You Feel Great, Even When You're Feeling Good.  For A Refreshing Lift, Grab A Canada Dry Ginger Ale.  It's Real Ginger.  Real Taste.
Club Soda
Caffeine-Free, Low In Sodium, Zero Calories
Tonic Water
Contains Quinine.
80-Calories Per-8-Ounce Serving
Diet Tonic Water
0-Calories
Sour
Contains Lemon Juice.
110-Calories Per-8-Ounce Serving
VITAMIN-ENRICHED HOG WASH
Kids love it!
Moms love it too!
Available in Regular or Zero-Calories flavors.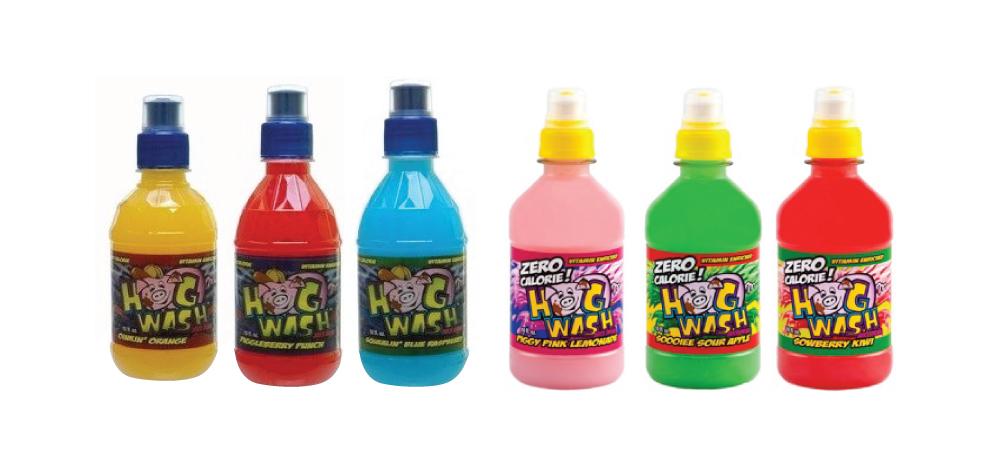 FROZEN FRAPPE
A Sweet, Creamy, Caffeinated, Slushy Treat.  As Irresistible As A Milkshake & As Potent As A Double Espresso, That's Our Frozen Frappe.
Available In Mocha, Vanilla & Caramel.
---
 GLACIER BLAST FROZEN SLUSH
For a kid is there anything better than a Frozen "Slushie" / "Slushy" on a hot summer day?  You knew the "brain freeze" was inevitable but that was all part of the fun.  The truth is whether your a genuine kid or a kid at heart, "kids" of all ages love Frozen Slush.
Our Glacier Blast is so good that "brain freeze" might end up being your new middle name.  Glacier Blast is available in Blue Blastberry and Chillin' Cherry.
Dispensing Equipment Chills The Product To 34°.
---
FROZEN MARGARITA MIX
FROZEN DAIQUIRI MIX
PINA COLADA MIX
Celebrate The Occasion; Party Like An Adult; Feel Like A Kid.
With Our Concentrate Mix & Bunn Equipment You Can Make 5-Gallon Batches (Alcohol Not Included), Saving Time & Making Money.
Pre-Measured, Pre-Mixed, Serve-On-Demand.
Many Frozen Recipes & Many Flavors Including:  Frozen Peach, Frozen Raspberry, Frozen Strawberry & Frozen Watermelon.
Dispensing Equipment Chills The Product To 34°.